Accordingto Christian symbolism, "peacock" (Armenian – "siramarg") is a symbol of immortality, anintermediary between Heaven and Earth. According to the Armenian medieval commentaryliterature "peacock" is a link between Old and New Testaments.
Good video.
Turkish professor talks about the Armenian Genocide.
This is really the true way to reconciliation. No protocols will every be accepted without first acknowledging historical justice. Armenians lived within the Ottoman Empire and contributed a lot to the progress of the empire. When some (very few) Armenians raised the issue of equal rights and justice and even fewer raised the issue of self-determination (which every people deserve) all Armenians from unborn babies to the old were targeted for extermination. Those that survived were simply due to kindness of some Turks and Kurds who did not carry out orders that they were given.
Рубену Петросяну (1 год и 3 месяца) срочно необходима кровь 4-я положительная группа. Жизнь ребенка в опасности. В Министерстве здравоохранения Краснодарского края подтвердили эту информацию. Вчера малышу стало хуже от проведенной химиотерапии. Это обычный процесс — упали тромбоциты. Пожалуйста, откликнитесь все, у кого 4-я положительная группа крови. Телефон мамы Рубена: 8-918-608-36-39 (зовут её Роза).
Привезли мальчика из Адлера, в Краснодаре у них родственников нет. Перед весенними праздниками три волонтера (Вешневецкий Виталий, Журавлев Дмитрий и Петренко Елена) сдали свою кровь для Рубена. Ранее, чем через три недели им нельзя сдавать кровь повторно.
Ситуация очень серьезная. Еще один малыш, для которого сдавали и искали кровь перед Новым годом, умер. Выражаем соболезнования семье и близким. Помогите маленькому Рубену, у которого есть шанс выжить
http://www.yerkramas.org/2013/03/14/godovalomu-malyshu-v-krasnodare-srochno-nuzhna-krov-srochno/
"…Every nation in the world has the right to their own self-determination, but only a few went through the suffering, as the Armenian nation…" – Libor Spimr
As a visually conspicous symbol of regenration, the tree has embodied the cycle of life since times immemorial. This basic archetypal concept has subsequently evolved to include a nexus of related semantic catagories, including the sacred space of trees, or the 'holy grove'. The ethnographic implication of this thematic variation becomes quite intrigiung once we expand our focus on the Armenian cultural corpus.
Unlike certain other cultural 'leitmotifs', the veneration of trees is one of the most demonstrably continous mythical traditions of the Armenian Highlands. Manuk Abeghian, the great scholar of Armenia folkore, said the following about the surviving costums at the turn of the last century:
Many old and large trees in densely forested parts of Armenia are considered holy and are worshipped the same way as water sources. Before them candles are lit, incense is burned, roosters and sheep are slaughtered as sacrifices, the trees are kissed, people squeeze through their split portions or a slender child is sent through their holes to remove any influence of evil spirits. People believe (57) that [59] upon such holy trees light descends from heaven, or that saints dwell on them.
Trees also bestow health. Some cure all ailments, others, only particular ones, especially fever. To receive healing from a tree, one must cut a piece from one's clothing and wrap it around the tree or fasten it with a nail. Folk believe that in this way the disease is transferred to the tree. This is usually done at the same time they are going to bathe in the holy waters. However, when there are no trees around the holy waters, then people cut a piece of their clothes, wrap it around a stone, and leave it by the water. Often when passing by a sacred tree, people leave their walking sticks there to free them from their ailments (AH, II, 200). Sap taken from these trees is smeared on diseased skin. Such trees continue to be worshipped after they dry up, while the rotted wood is used as medicine.
Trees and fountains also cure animals. The sick animal is made to walk around the sacred tree three times and then a stick is cut and left near the tree (AH, II, 198 ff.).
Fountains and flowers may even bestow immortality, but not knowingly on humans. It is believed that snakes will live forever, if they are not killed. There are "fountains of immortality" whose waters are surrounded by various flowers and plants. Old, sick, and wounded snakes recognize such fountains and plants. They come to such springs and change their skins by eating the petals of a particular flower. Then they immediately slither close to the water source, bathe in it, and drink three gulps of water. After this the snakes crawl out healed and young again. If a person recognizes the fountain and the flower, drinks three handfulls of the water and eats the flower, then he too will become immortal (SGB, pp. 37, 86).
In Azgagrakan handes II, pp. 198 ff. some [60] 37 different types or species of trees are mentioned which are considered holy in the distrcit of Varanda. Mentioned with the majority of these trees are alsoxach'k'ars [carved crosses] which have such names as "apple cross," "golden cross," "green cross," etc.*
Although these names do not have any particular significance, since the word xatch' [cross] designates a holy site, they are nonetheless considered Christian. There are beyond these some eleven other sites which are regarded as having a pagan origin. Such a large number in one district clearly shows how strongly the pagan worship of trees survived among the Armenians.
It is considered a sin to cut down a sacred tree or to cut its branches. It is believed that the trees themselves have the power of punishing the malefactor with disease. Sometimes the punishment is extended to include the malefactor's entire family. A universal human idea, that plants are sentient, naturally is found among the Armenians. People often behave as though those trees are alive, treat them as people, and talk to them. For example on the feast of Palm Sunday, Tsaghkazard [Adorned with Flowers], which the people call Tsar'zardar [Decorated with Trees], peasants will take an axe and and tap on a tree which does not give fruit, saying: "If you don't yield fruit, I will cut you down."**
Bryonia Alba, [Armenian] loshtak is considered king of the plants (AHH, p. 73). It is not merely an animate being but one with a human-like form. The fruit and roots of this plant are regarded as a magic wand which can give wisdom and strength to humans and animals. They also cure numerous diseases and ward off evil spirits. As a result, everywhere people try to possess any part of this plant. Loshtak is gathered only in the month of May. When harvesting it, certain prayers are recited, and when the root is removed, [61] with the aim of assuaging the plant's anger a goat kid or chicken is tied to the plant—probably originally as a sacrifice. There are also some plants which, though they lack souls and are not worshipped, are nonetheless powerful defenses against evil spirits. Examples are the wild rose and plants with thorns. As among other peoples, thorns are affixed to the door of a house to stay free of evil influences. An especially efficacious defense against the evil eye is provided by the European Nettle tree,Celtis austrailis which people plant in their yards, gardens, and elsewhere, and also by the bush Viburnum Opulus. Along with other prophylactic devices, pieces of these plants are kept by people and are also tied to the necks of animals.
*The thoroughly Armenian tradition of cross-stones is in itself a testament to the persistence of tree sacricy in the psyche of the Armenian people. These monuments are often decorated with vegetative motives, which in essence "factor" the religious symbol of the cross by one-degree, back to the primary archetype of the Sacred Tree.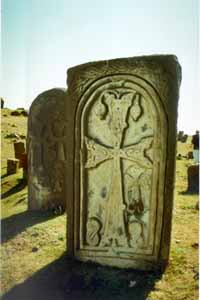 Khachkar from the 7th century
One of the finest specimens, the khachkar at Goshavanq, carved in 1219 by the artist Poghos
Excavated from the Artik region of Armenia, this bronze figurine dates back to the 13th Century BC on display at the National History Museum of Armenia, some believe that this figurine represents the God Mihr (Mithra) who has tamed a Lion. What we do know is, it represents the militarized outlook of the Armenians from 13th Century BC, as well as the importance they put on Lions.